Preface
It was in search of the "Ross Family" Coat of Arms pictured on the cover that led me to compile this book. Little did I realize at that time, nor would I have believed had I been told, that there is no such thing as a "family" Coat of Arms.
Having somewhat mastered the skill of woodcarving while stationed with the U.S. Army in what was then West Germany, I thought it would be a good project to carve my family Coat of Arms. Remembering an illustrated volume in the local library, I decided that would be the best source for the proper design. To my dismay, that book portrayed several pages of "Ross" Coats of Arms: Ross of Kindace, Ross of Priesthill, Lord Ross of Halkhead, Chief David Ross of Dollar, and on and on.
Since I had absolutely no idea of my ancestry, it was impossible to choose any of these Coats of Arms as that of "my" family. Struggling with this problem for several weeks, I suddenly remembered my birth certificate. Not only did this document tell about my own birth, but it also contained my parents' ages and places of origin. That, of course, was the key to my ancestry. I promptly wrote and obtained a copy of my father's birth certificate, and just as I anticipated it told his father's age and residence at the time of that birth. Unfortunately, however, my father was the first to have a formal birth certificate. Another surprise stumbling block had fallen in my path. There was no way I could have known that registration of births was not formalized until about 1904.
By then, however, it had become a challenge. I was determined to trace my ancestry in search of that family Coat of Arms. Having no idea where to begin, and unwilling to ask any of my relatives (actually, I did not trust any information that they would have given me), I thrashed around blindly for several months, writing to every official records repository I could locate. Eventually, one of those "shots in the dark" paid off with the receipt of my grandfather's death certificate--which also listed his age and place of origin. Even more importantly, it contained the names of his parents.
Calculating that my grandfather's father was born about 1840, it seemed reasonable to me that he probably had served in the Civil War. So, I wrote to the National Archives for a copy of his Civil War record, which I eventually received. This Civil War record, immensely interesting in its own right, gave the names of my great-great-grandparents, as well as their place of residence at the time of their child's enlistment in the Union Army.
Then I hit a dead end for about three years. I had absolutely no clue for searching further. There seemed to be no record. One day the obvious thought occurred to me--maybe the little town of LeRaysville, Pennsylvania, was still the home of some member of another branch of the family. I hurriedly wrote to "Anyone named Ross" in LeRaysville, Pennsylvania, and was astonished to receive a lengthy and informative answer. Not only did members of the family still live in that area, but one of them was the keeper of the Reunion Book, which contained records of family history. She, naturally, did not have the supporting documentary evidence I sought, but she had a list of names that took me back to the Revolutionary War.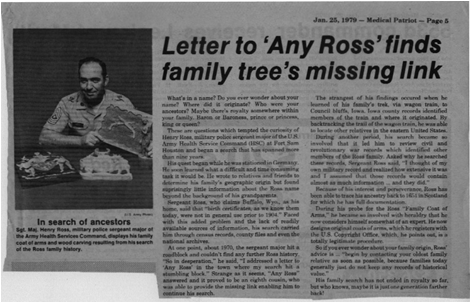 Armed with the information from the Reunion Book, it was a comparatively simple matter to obtain sufficient documentary proof to fit these particular pieces snugly into my personal ancestral puzzle. Of most benefit was my great-great-great-great-grandfather's Revolutionary War record. This treasured collection of notes named his father, and traced their migration from Connecticut to the Wyoming Valley of Pennsylvania.
The search from that point backward was even more slow and difficult. In contrast to my previous experience, very little historical narrative came within my grasp, but I was thankful just to get names, dates, and locations.
Eventually, twelve long years from my awkward beginning, I successfully tracked my forefathers back to Scotland. It seems that one John Ross was among those foolhardy Scots who marched on London during the British Civil War. When Sir Oliver Cromwell met them in the Battle of Worcester in 1651, he devastated the Scots severely. Those fortunate enough to be among the 8,000 taken prisoner were summarily "transported" to the Colonies. My ancestor, John Ross, was one of those prisoners and is documented as a resident of Ipswich, Massachusetts, in the year 1664.
My long search for the Old World Connection now complete, I decided I was ready to obtain a copy of "my" Ross Family Coat of Arms. In his lengthy and indulging response, the Lord Lyon King of Arms explained patiently to me that "There is no such thing as a 'family crest' or 'family coat of arms' which anyone can assume, or a whole family can use." That stunning realization became the subject of another manuscript.
At any rate, my initial quest for a Ross Coat of Arms had become of secondary importance over the years. The challenge of tracing my family's history became more than an academic exercise of a means to an end. My persistent passion had led me back through over three centuries of America's history. Along the way, I amassed a tremendous amount of Ross history, thinking that someday it may all fit together. Much of it has; some never will.
Anxious that the fruits of my search be preserved and made available to all my Clan Ross kinsmen, I felt obliged to compile this Book of Ross.
Hank Ross
April 1993